GET INSTANT ACCESS!
DON'T REINVENT THE WHEEL...
TEACH YOUR CLASSES USING OUR PROVEN METHOD AND MATERIALS!
The Robert's rules made simplE:
Instructor Certification Program
Teach your classes using our proven method.

Includes a complete Leader's Guide, Participant's Guides, a full PowerPoint deck and more...
DO YOU NEED TO TEACH ROBERT'S RULES OF ORDER?
Are you looking for a teaching resource for Robert's Rules Of Order classes?

​Do you struggle with making Robert's Rules of Order relevant and interesting?

Could you use an effective and proven Robert's Rules curriculum to support you while training?

Would you like to use "Robert's Rules Made Simple" video content in your classes?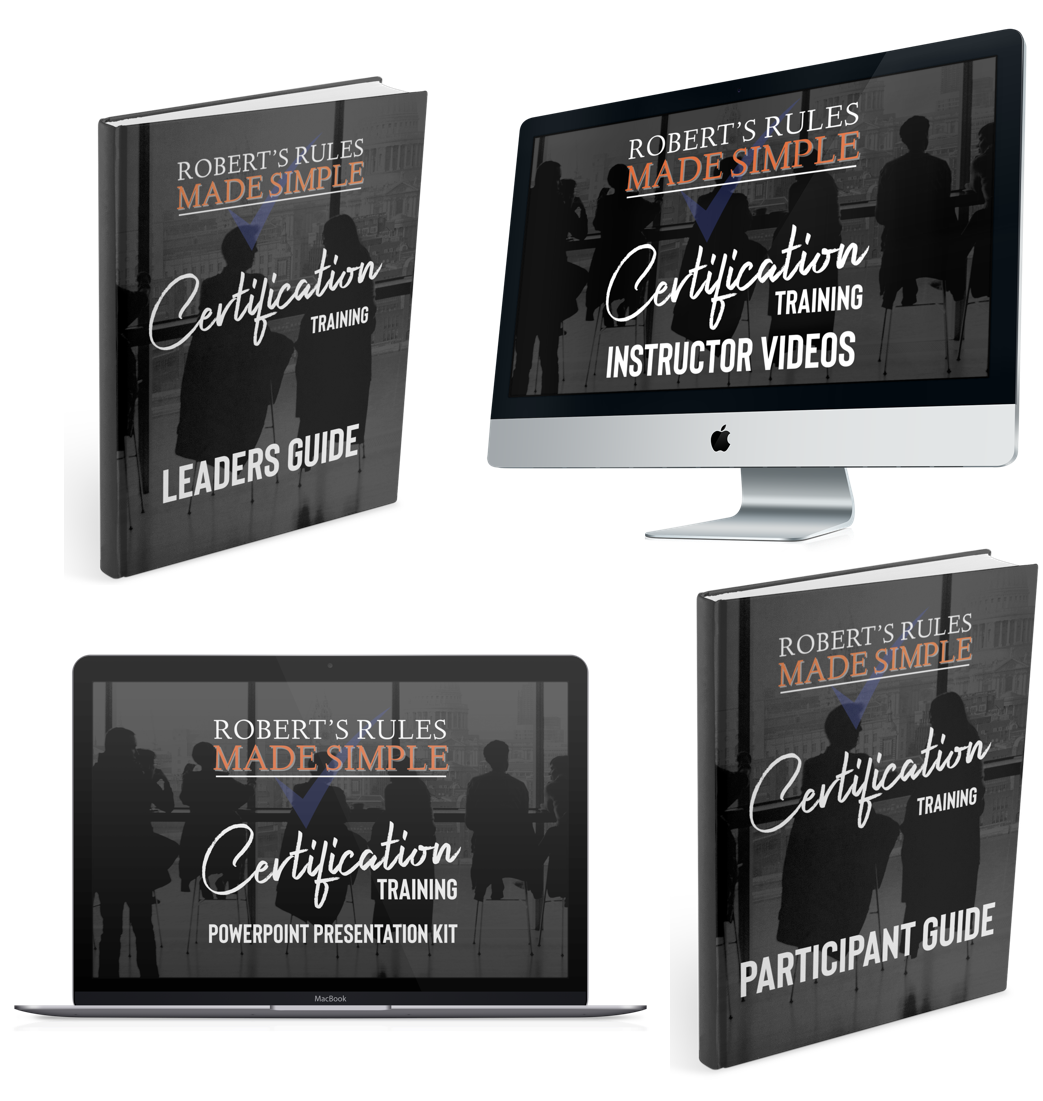 SAVE YOURSELF TIME AND ENERGY BY GETTING CERTIFIED TO TRAIN NORTH AMERICA'S #1 COURSE
TEACH ROBERT'S RULES THE SIMPLE WAY!
Getting certified gives you access to the exact same course and materials that Susan Leahy MA.CSP uses when she trains her classes.

The entire class is scripted, so the instructor needs only a basic understanding of parliamentary procedure in order to train from this material.
Training Materials include:
A complete Leader's Guide.

Printable Participant's Guides.

An editable PowerPoint deck.

Full video training program for the instructor.

​Video samples from "Robert's Rules Made Simple" to use during your classes.
ROBERT'S RULES MADE SIMPLE IS A PROVEN PROGRAM USED BY OVER 10,000 BOARDS!
"Susan Leahy does a terrific job simplifying Robert's Rules and her course is the best resource I've come across. I think it's a fantastic resource. I recommend you purchase access for your group."
Ron Paul
-Congressman and Presidential Candidate
"At our last council meeting we were actually way ahead of time because we have become more efficient, so it is quite amazing how clear and effective this training makes one become, so thank-you!"
Debbi Lester
-Mayor, Bainbridge Island WA
"Susan Leahy is this vibrant being that has an amazing capacity to take something that is intimidating and complex and really simplify it so you can learn easily."
Liora Mendeloff
-President, Women's Speakers Association
WHO IS THIS PROGRAM FOR?
This program was developed for individuals who need to provide Robert's Rules of Order training but who do not have the time or budget to create a program of their own from scratch.
The Instructor Certification Program is ideal for:
College and University advisors & professors.

Professional associations.

Leadership academies

Private consultants.
You don't even need to be a parliamentarian to teach this class!
We make it that simple!
HERE'S HOW IT WORKS AND WHAT YOU GET...
The Robert's Rules Made Simple INSTRUCTOR CERTIFICATION PROGRAM gives you both the tools and license to train the exact same Robert's Rules Made Simple curriculum that has been used to successfully train thousands of boards over the past 15 years.
ALL TRAINING MATERIAL IS DELIVERED DIGITALLY AND CAN BE ACCESSED IMMEDIATELY
The key elements of the program are:
A complete Leader's Guide

A printable Participant's Guide

An editable PowerPoint deck

Instructor training videos

A lifetime commercial license

A 1-on-1 coaching session with Susan Leahy
Part #1
Leader's Guide ($597 Value)
The Leader's Guide is a 50+ page course map that shows you step-by-step how to train the entire Robert's Rules Made Simple class.
The Leader's Guide includes scripted examples of what to say in all sections of the class, and includes exercises to use at particular points in the class.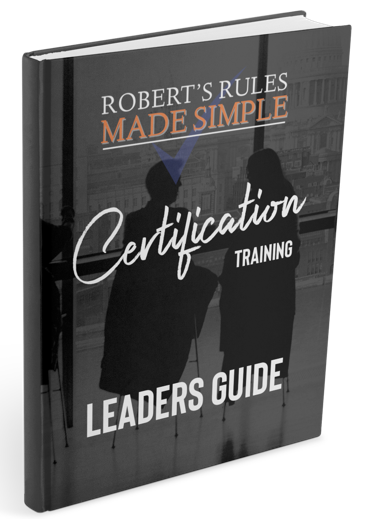 Part #2
Participant's Guide ($397 value)
The Participant's Guides are a printable tool for you to give to each participant that include key course content and exercises. The Participant Guides are an excellent take away for students and support learning and retention of the material.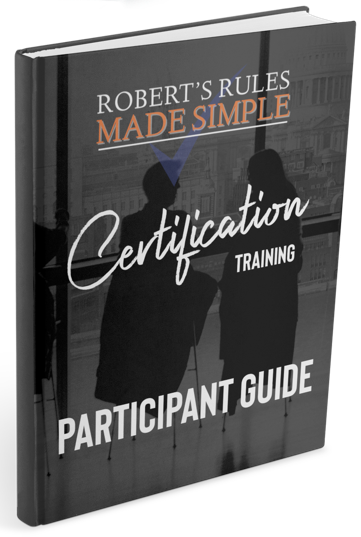 Part #3
Editable PowerPoint Deck ($997 value)
The custom PowerPoint deck contains all the slides you will need to deliver the class. The deck is editable so you can add client logos, your own information, or modify slides so they better suit your particular audience.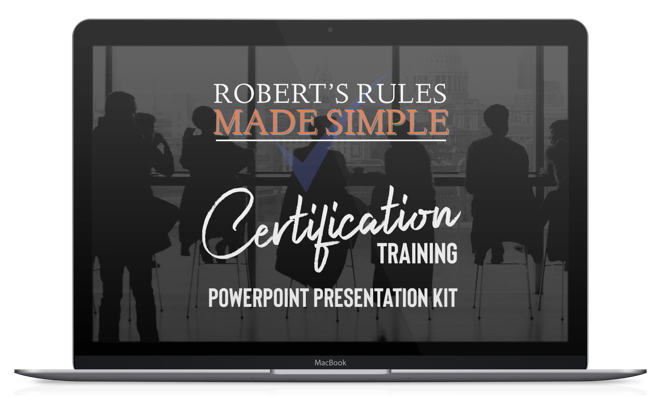 Part #4
Instructor Training Videos ($597 value)
The Instructor Training Videos feature Susan Leahy walking instructors step-by-step through the entire Leader's Guide and PowerPoint training, sharing tips and techniques on how to deliver the most powerful class possible.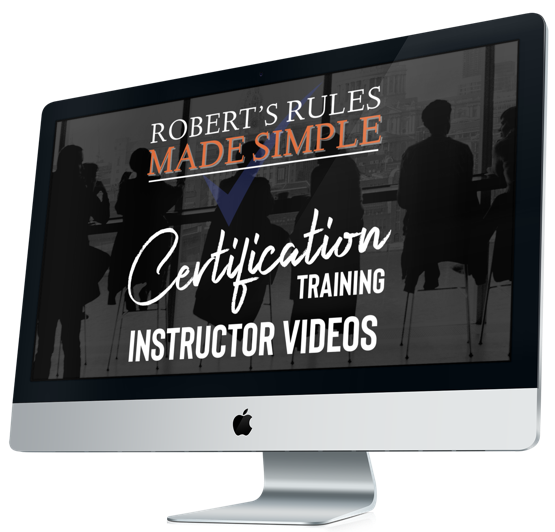 Part #5
Lifetime Commercial License ($1,997 value)
This lifetime commercial license, gives you authority to use the Robert's Rules Made Simple course, workbooks and material for all future trainings.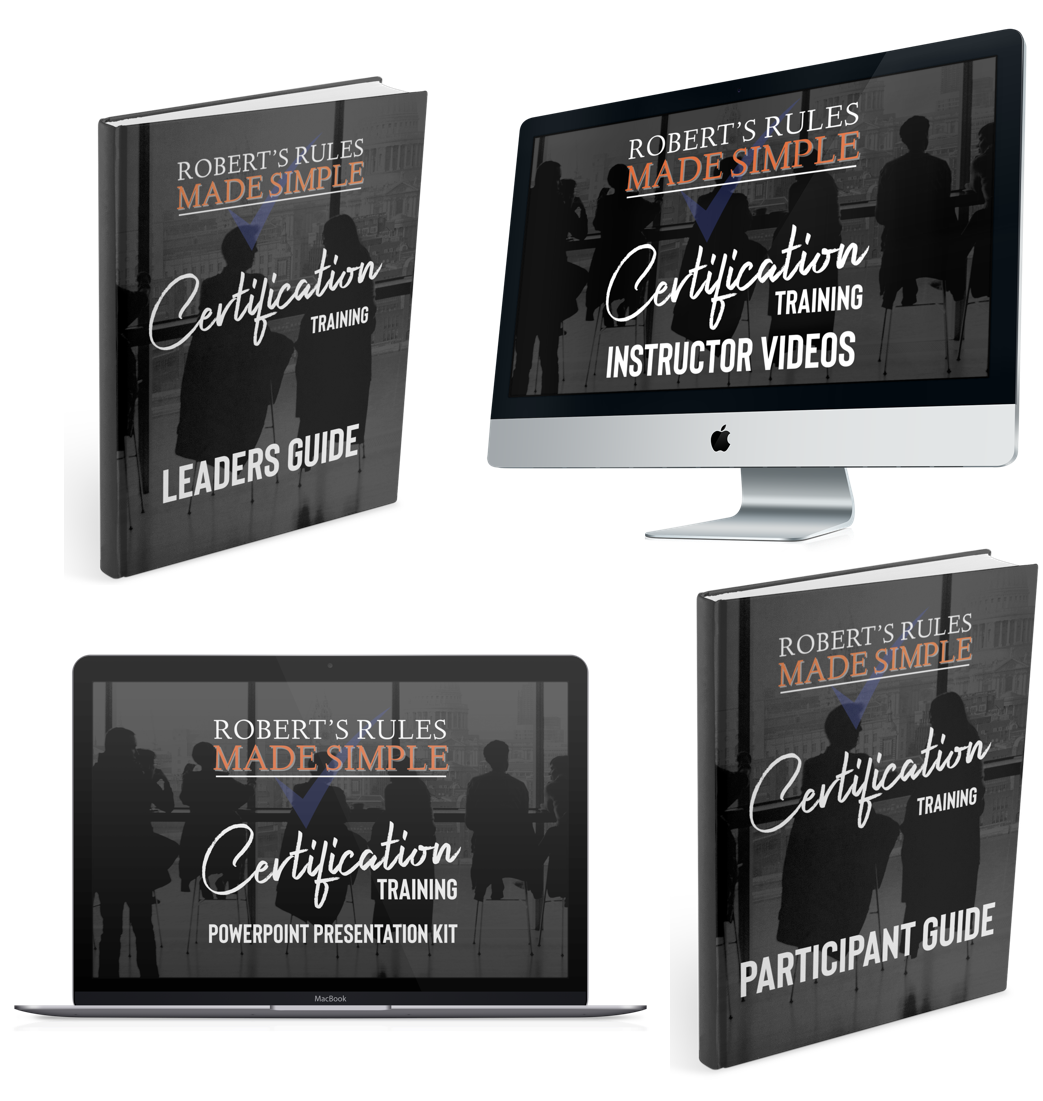 Part #6
1-on-1 Coaching Session with Susan Leahy ($597 value)
The final step in your Certification process is a 1-0n-1 coaching session with Susan to resolve any final doubts and share her unique tips for success.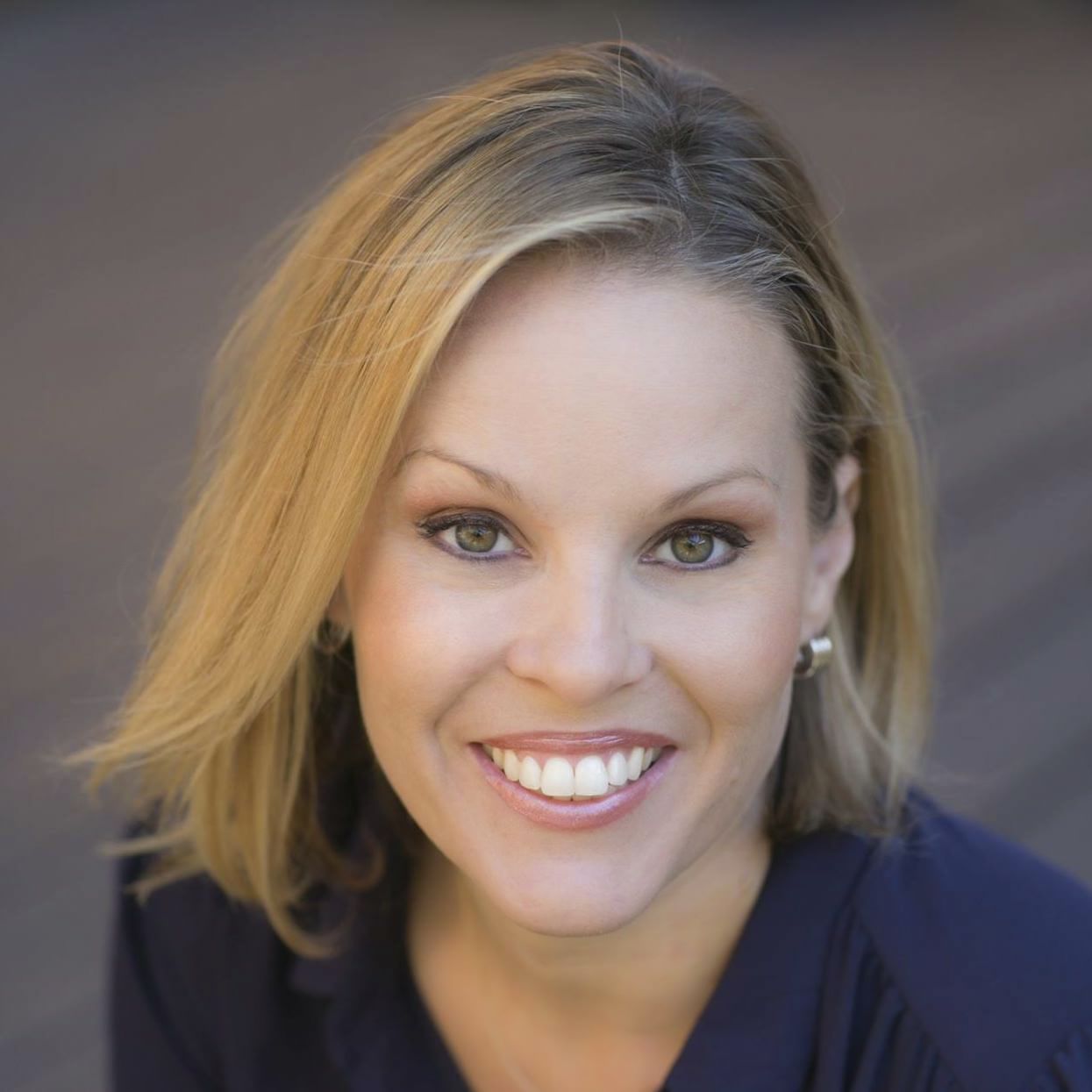 PLUS... you get access to the Robert's Rules Made Simple Individual Training Program!
A $147 value...
You will master the "7 Fundamental Motions" used in most meetings:
The Main Motion


How to properly bring a business item into your meeting.​
The Amendment


How to alter the motion by adding to, or subtracting from the motion.​
Amend the Amendment
How to make changes to the amendment.​
Refer To a Committee
How to refer a motion to a specific committee for further study.
Postpone to a
Certain Time
How to postpone a motion to gather more information prior to taking a vote.​
Lay On the Table


How to properly lay a matter aside in lieu of more important business.​
Call the Question


How to stop discussion and keep the meeting moving forward.
AND... you also receive these bonuses...
Bonus #1
Quickstart Webinar Series ($97 Value)


The QuickStart Webinar Series is a series of specially developed webinars to support the 7-Part Video Training.With these webinars, featuring Susan Leahy MA.CSP, you are sure to reduce up the amount of time required to master Robert's Rules of Order.
Bonus #2
Confident Public Speaking Audio Course
($47 Value)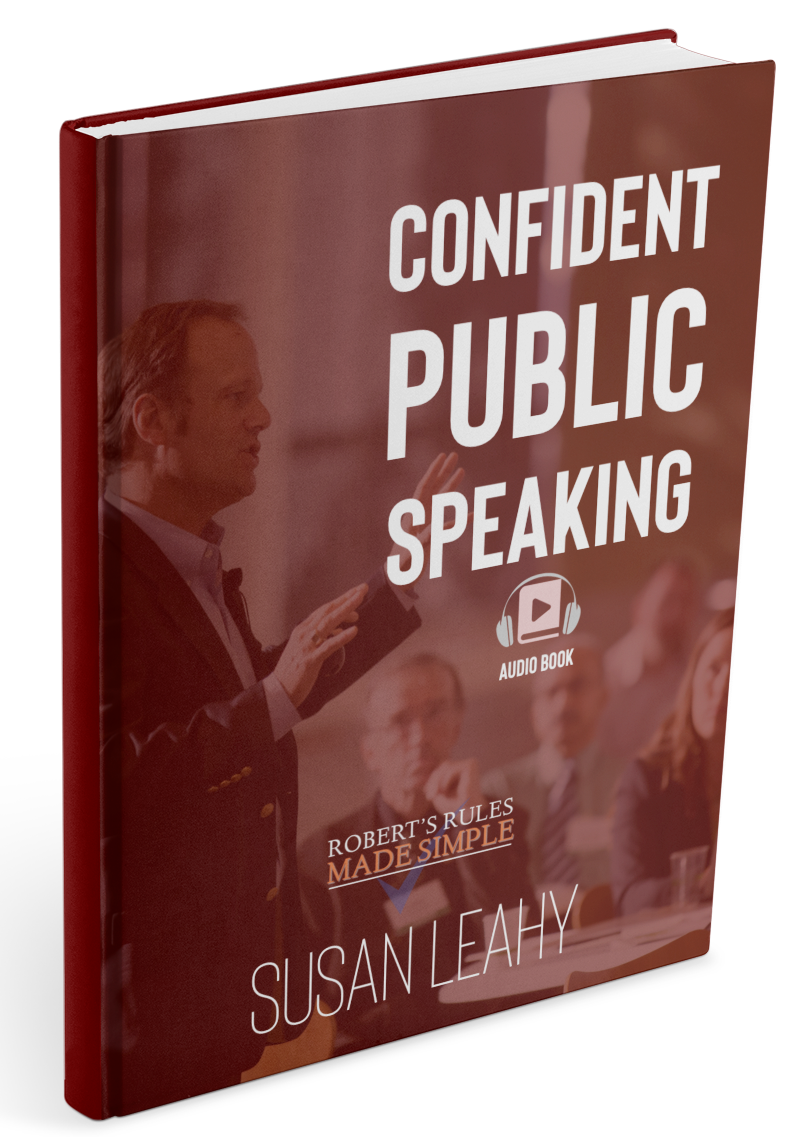 Boost your public speaking skills and become a better trainer and facilitator! This powerful 80-minute audio course from Susan Leahy MA.CSP has helped thousands of people to become more effective public speakers in their professional and personal lives.
GET STARTED WITH THE INSTRUCTOR CERTIFICATION PROGRAM NOW!
Over $5,000 in value for just $1,997
Includes everything you will need to lead effective and impactful Robert's Rules of Order workshops that will improve your organization's meetings and productivity.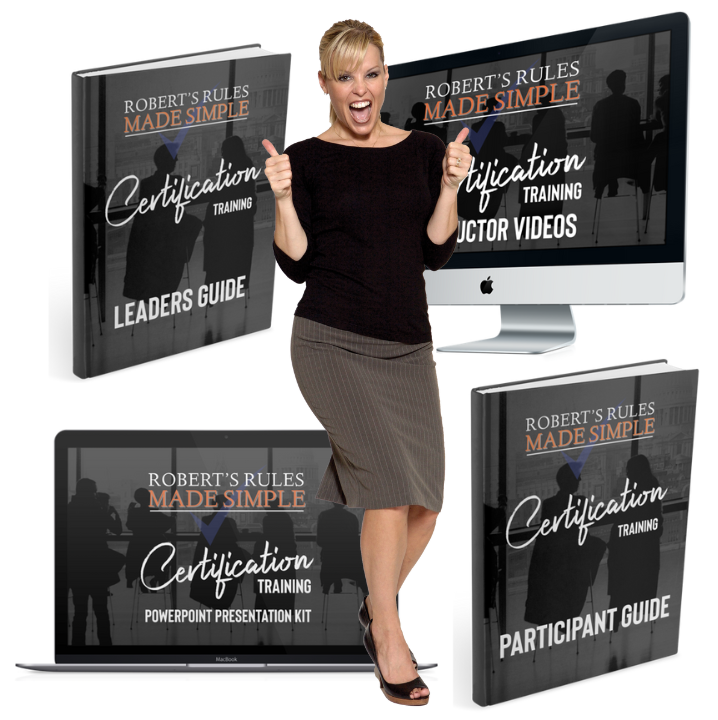 Course:
—
Robert's Rules Made Simple - Instructor Certification Program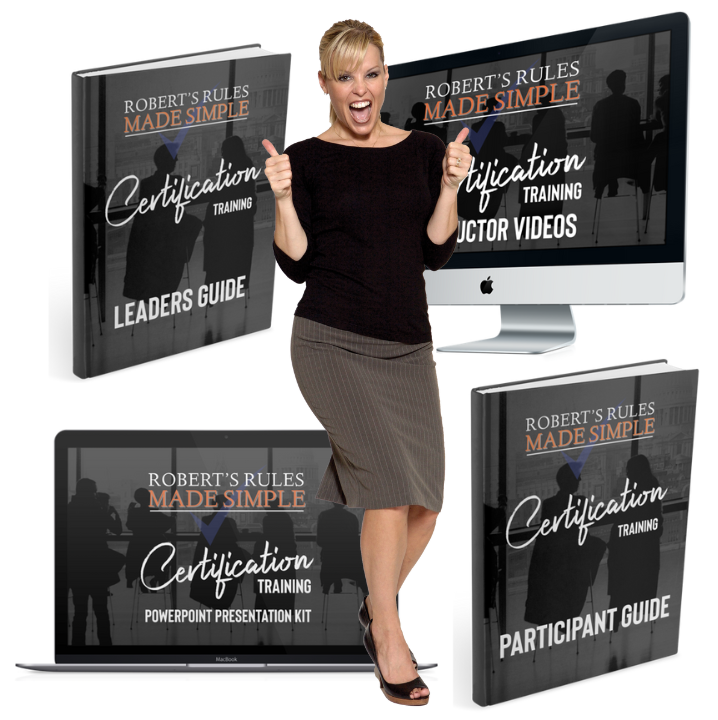 Susan Leahy MA.CSP
Creator - Robert's Rules Made Simple
Susan Leahy is the creator of Robert's Rules Made Simple. She has been teaching Robert's Rules to boards for over 20 years and she has the unique ability to make this complicated material SIMPLE & FUN!
Susan's courses are used by over 10,000 boards across North America to run better, more effective meetings.

Subscribe to our newsletter now!
Get weekly updates on live streams, news and more right in your mailbox.
The QuickStart Webinar Series is:
The perfect companion to the Individual Training Program!
2 x 1-hour live webinars.
Includes Q&A sessions.
Specially created to get you up and running with Robert's Rules fast!